Well... before Em left I said, "Don't worry, I'll do the Five for Friday." She said, "AWESOME!" I let her down. :( In my defense, the computer did not turn on Friday OR Saturday, so here we are.... FUNday, Sunday! I hope you don't mind. This is my FIRST EVER time linking up with Doodlebugs. I'm super excited! I hope you don't mind there may be a *few* pictures in this post. :)
#1.
I know. A sad, sad picture. This is where Em sits and conferences with firsties for two of our classes. This seat has been empty during those classes for three days now. I have to survive only one more day without her! :)
#2.

Our writer's workshop is in FULL swing. We've been working feverishly on our personal narratives and this week we are going to narrow down to just one that we will take to publication. I'm so excited because we get to work on having a "Writer's Eye" and I'm going to be wearing this.....
A Mike Wazowski shirt! I'm using this guy to help me with the Writer's Eye. :)
I'm THIS excited about it!
#3.
We have also been focusing on our "FIVE STAR SENTENCE" writing. I stole borrowed this from the teacher my oldest had last year! Thank you! :) I did change number 4 from spelling to sounds match words. For many of my firsties it has helped to get away from "Mrs. E. How do you spell______(insert every word in the dictionary here)". :)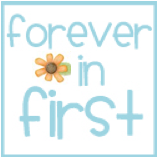 read Smarter Charts this summer. As you can tell, my charts have changed DRASTICALLY. I L.O.V.E. the simplicity of the charts now. I took a lot of great things away from this book, but one thing that has resonated with me this year is to NOT put up charts/things that your kiddos will not use. So if they ain't gonna use it, it's not going up on my walls!
#4
We've been spending parts of our weekends at Kings Island. :) Next year they are opening a new roller coaster!!!!! I'm not sure if I will ever ride it because I have seen the video and I'm not sure it's for me, but our oldest can't wait!!!! I think it's going to be a few more years for her because she's only 48 in. and I think you have to be 52! WHEW!!!! I think we're going to dodge that bullet. :) This is what they have done so far. It's really exciting to see it being built each time we go.
#5.
Our oldest had her last softball game... well it was last week, but that's ok, right?! She LOVES playing catcher and I think it's the funniest thing ever! All that equipment! Even though she's closer to the dirt this is one position where she doesn't play in it! Do you feel my pain?!?!?!?! Their team was called the Rosie Reds, so our coach arranged for Rosie Red to come after the game!!!! How cool was that?!?!?! Anything in a costume like that freaks our middle out. So much for a Christmas Card photo. :)
Well, I'm sure you've all linked up and I'm the last one on earth doing this, but at least it's done! :)
If you haven't linked up, head on over to Doodle Bugs and get your link on!